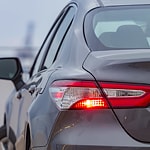 The Toyota Camry is an energetic midsize sedan that gets safety, technology and performance right. This is precisely why it has received so many accolades.
3-Mode Drive Switch

What if you could change modes to accommodate different driving scenarios? That's exactly what you can do in the Camry. It has three modes that include ECO, Sport and Normal. The ECO mode offers a greater level of efficiency. The Sport mode is for when you want a lively drive. None of the modes negatively impact the Camry's stellar fuel efficiency.

Dynamic Torque-Control AWD

? Torque-Control AWD is a valuable feature in the Toyota Camry that boosts acceleration. It does an incredible job of enhancing traction. In fact, it has sensors that can detect a reduction in traction. It will then adapt accordingly. This feature contributes to the Camry's exceptional performance.
Our knowledgeable team at Brunswick Auto Mart is here to answer any questions you have about the Camry. Visit us for a test drive today!