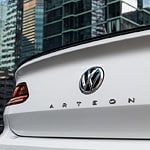 The Volkswagen Arteon is an all-new fastback that's built to provide optimum levels of comfort, customization, and convenience. Brunswick drivers seeking sleek, sporty vehicles that are rich with innovative design features will love this outstanding car. At Brunswick Auto Mart, we're eager to show you why.
Occupants Can Enjoy Customized Heating And Cooling
The Volkswagen Arteon features cutting-edge climate control in the 3-Zone Climatronic zoned heating and cooling system. With this setup, three different temperature zones can be established to accommodate the needs of every occupant. Those who are overheated can receive cooled air, and those who are cold can warm up with direct heating.
Drivers Can Get A Massage While Operating The Arteon
There's no better way to beat back fatigue and stress than by receiving a massage from your very own vehicle. The driver's chair in the Arteon delivers pulsating pressure with incredible precision for motorists who are anxious, tired, and sore. To experience the Volkswagen Arteon for yourself, come by Brunswick Auto Mart for a test drive.