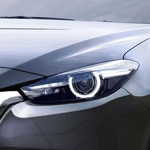 When it comes to a hatchback, you will want to take a look at the Mazda3 if you are in the market for one. This is a popular model because of the features that are included. You will find that each additional design feature enhances the quality of the vehicle and makes it fun to own.
The adaptive front lighting system is an innovative feature that has proven itself to be really useful. The headlights will actually pivot when a corner is approaching. At night, this allows you to spot upcoming hazards much sooner than you would have before. This can help you avoid potential collisions.
There is also a high beam control feature that puts the car in charge of switching back to low beams. When a car is coming your way, you no longer have to fiddle with the switch yourself. Brunswick Auto Mart will be happy to arrange a test drive of the Mazda3 for you.