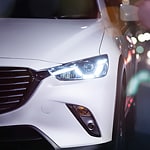 When you are on the lookout for a stylish, popular and high-tech subcompact crossover, your search ends with the brand new Mazda CX-3. This exciting and innovative crossover can seat up to five people easily and also has ample cargo space for family or work driving. However, it is its technology features that excite its owners the most.
Specifically, the new Mazda CX-3 comes with Mazda Connect, a technological feature that combines the convenience of mobile communication with safe driving. When you buy your new Mazda CX-3, you can immediately integrate your smartphone or tablet to your vehicle. All of the features that you use in your device are then available through the Mazda Connect feature.
However, the new Mazda CX-3 also has a variety of safety features that also highlight the car's technological capabilities. For example, it can alert you to driving behaviors, such as drifting onto the shoulder, that can lead to accidents.