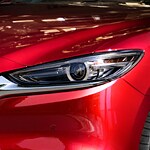 The Mazda6 is a popular mid-size sedan that's been built to impress. With its cutting-edge amenities and sleek interior, this car is the very definition of sophistication. At Brunswick Auto Mart, we're excited to tell shoppers about some of the best design features that this car includes.
Enjoy A Smooth, Whisper-Quiet Ride With The Mazda6
The Mazda6 has been carefully refined to totally insulate drivers from all road and wind noise. This creates a relaxing, in-car experience that makes it easy for motorists to focus. Along with a precisely tuned suspension, this interior insulation also makes it possible for occupants to fully enjoy their music, audiobooks, and other forms of in-car entertainment.
Finish Your Long Drives Alert And Full Of Energy
The interior design of the Mazda6 is also tailored to promote comfort that leaves drivers and passengers feeling alert and full of energy, even after long road trips. That's because the seats in this vehicle are fashioned for even weight distribution, optimum support, and good posture. To experience the Mazda6 for yourself, drop Brunswick Auto Mart to take one for a test drive.