What a great Event - Fill the Forester Dec 15th 2012
Fill the Forester

On Dec. 15th Brunswick Subaru had a Toy Fund Raiser for the Make A Wish Foundation. At the dealership The Dance House, from Medina performed about a dozen dance numbers. Also present was Kim Sazima, Development Associate from Make A Wish. Also present was Geoff Panteck, one of the Owners from Brunswick Auto Mart. The dancers were very entertaining and put on an awesome show for all who attended. The showroom was packed, and everyone who attended brought a Toy, to Fill The Forester. This is the second year Brunswick Subaru has teamed up with Make A Wish, and was even more successful than the first year. Brunswick Subaru, would like to Thank, The Dance House from Medina, Owner Amy Wilson, Artistic Director Shannon Smith, and Choreographer Sarah LaGuardia, and of course the talented dancers for such a Great Show! Also thanks to everyone who brought a toy to help us Fill The Forester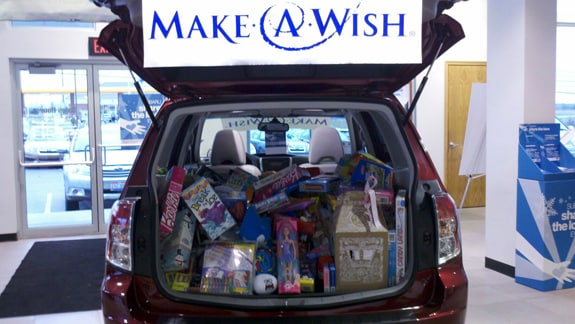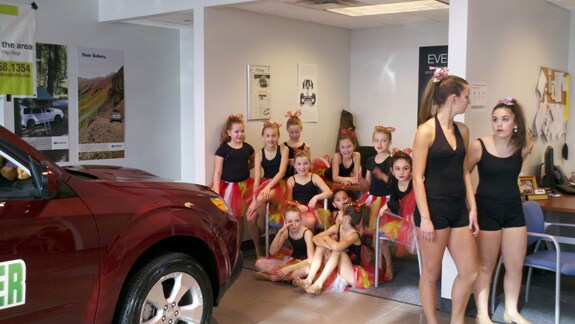 The Dance House Dancers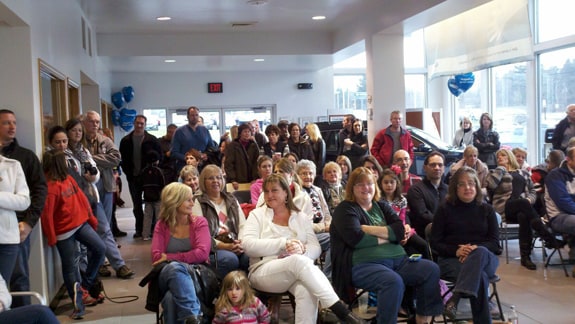 A Big Thank You for all who showed up to support Make a Wish

Brunswick Auto Mart to Expand
Brunswick Auto Mart to Expand

BRUNSWICK The public will have its first official opportunity this week to weigh in on the proposed expansion of Brunswick Auto Mart.
"It surprised the hell out of me," Brunswick Auto Mart owner Gary Panteck said Monday of the city administration's recommended denial of Panteck's expansion plan. "We anticipated some of the typical building requirements ? with any planning commission in any city, there are hoops you have to go through. But we have been here for 21 years and have always lived up to what we planned to do."
Planning Commission has yet to decide on its approval or denial of Panteck's plan for the six-acre parcel, currently owned by Dick Jacobs. The planning commission will hold a public hearing and further review of the dealership's plan at 7 p.m. Aug. 4 in council chambers, 4095 Center Road.
City manager Jim Lukas and city council have stated that the Panteck plan does not fit with the city's 2005 comprehensive plan for the parcel ? located at Center Road and Industrial Parkway South, directly across from Brunswick Auto Mart's current Chrysler, Toyota and Subaru dealerships.
City officials instead have called for light-industrial or "mixed use" and "travel oriented" commercial development of the area immediately adjacent to the Interstate 71 interchange.
The property falls under a "conditional use" zoning, allowing any reasonable condition to be grounds for denial if not met. The primary condition the city has recommended for the Panteck plan is an assurance that new cars only be sold at the new facility.
Not naming names
City officials have not, however, named any other specific developers interested in the parcel ? a point that illustrates, in Panteck's opinion, a city manager's office that is seemingly "not pro-auto dealership."
"There are other commercial property owners around the parcel who haven't agreed to sell," Panteck said. "And when I spoke with our ward councilman, Chuck Ricco, he said a car dealership wouldn't detract from the developers they are talking to. But he didn't name who they were."
Panteck has stated that he anticipates the new dealership adding as many as 30 new employees and an estimated $150,000 per year in taxes to the city and school district.
He also noted that under "policy 29," the city's comprehensive plan itself states as one of its goals that "the city should work with existing business owners to promote and ensure their retention, development and expansion."
Lukas, however, has said that the Brunswick Auto Mart plan is not as much at issue as its proposed location.
"We understand that Brunswick Auto Mart has been a good company and a good neighbor and if this was anywhere else in the city, the administration and council would have no problem," Lukas said at a July 21 council committee of the whole meeting. "If you can envision driving by this development in five years and you are still proud of it, then go with it. Or, if you want to hold off for something better, I don't think there is any right or wrong answer."
Brunswick Auto Mart vice-president and Gary Panteck's son, Geoff Panteck, said the need for the expansion has become obvious over the past four years.
"When we opened up the Toyota dealership in 2007, our volume doubled," he said. "In 2009, we opened the Subaru dealership and our Subaru business tripled. Then in November, we picked up Dodge and Ram trucks. We want to better serve our employees and customers, but we're not trying to make it a battle."

No "plan B"
Gary Panteck said he expects to close on the $1.9 million land purchase land by Aug. 9, adding that that "there is no 'plan B' location" for his proposed $4 million dealership and service facility.
Still, from a business perspective, Brunswick Auto Mart will likely still face the same growth-related problems after the city makes its ultimate determination to either allow or disallow the new dealership.
"We are purchasing the land as an investment that we would like to use ourselves since it is the best location for us," Panteck said. "And we haven't looked at any other locations for the new dealership. But if the project isn't approved, yes, we would possibly have to look at other cities."

Public Comments on Brunswick Auto Mart's Expansion
As a former business owner in the city of Brunswick, (Very llittle support from the city, and closed after one year) I find it hard to fathom why this city continues down the same path of leadership and direction. I have lived here for 28 years and have seen very little improvement in the attitudes of the leaders of this community, no matter who is voted into office. "Sounds a lot like Washington these days."
In my opinion, they should salivate at the thought of additional revenue from the dealership expansion instead of hanging onto the multiple dreams of upscale dining and shopping. The demographics of this area don't support those pie in the sky notions, as illustrated by the "Towne Center".
Wow.....That plan the city developed in 2005 has really reaped some great benefits on that land, as nothing has ever been built there......
Brunswick Auto Mart expansion moves forward
Brunswick Auto Mart expansion moves forward

BRUNSWICK - Following an overwhelming show of community support during a nearly four-hour public hearing Aug. 4, planning commission approved auto dealer Gary Panteck's request for the conditional use of a 6-acre parcel of property at the Interstate 71 and State Route 303 interchange to expand his Brunswick Auto Mart business.
The use approval was granted with the conditions that 70-percent of the vehicles sold be new cars; that Panteck continue discussions with the city regarding a possible tax increment financing arrangement; and that Panteck will set aside and provide utility connections on a 1.5-acre portion of the property, for possible future commercial use. The latter condition will also satisfy a planning commission concern that the more than 400 proposed parking spaces were in excess of what is needed at the site.
The commission also moved the approval process to review of a detailed site plan, where more conditions could be added and the plan still could be denied.
The discussion plan presented at the meeting addressed 14 administrative review comments from a July 7 planning commission meeting, including landscaping and a proposed fountain feature, traffic-related issues, and entrances and exits in and out of the property.
City engineer Ryan Cummins added that a traffic study, submitted by Panteck July 6, should also be updated to include details of how often vehicles will be transported to and from the existing Brunswick Auto Mart dealerships on the north side of Center Road.
The city administration had recommended denial of the project based primarily on an opinion that its location did not comply with the stated purpose stated in the city's 2005 comprehensive development plan for the Center and Pearl road corridors. Additionally, administration noted, the conditionally approved commercial highway zoning of the property suggests "car lots should be relegated to the north side of Center Road."
Joe Delsanter, council representative to the planning commission, described the comprehensive plan as a "visual budget" for the city that includes broad usages for the roughly 80-acres of CH-zoned privately owned properties along Interstate 71. Panteck, who has gotten city approval to expand his business on the north side of Center Road twice in the past three years, plans to purchase the 6-acre parcel in question from the Richard E. Jacobs Group within the month.
"The comprehensive plan doesn't have specific businesses or kinds of businesses, but has guidelines of what you hope to see," Delsanter said. "This is not an affront to Mr. Panteck, but we need commercial development and an industrial presence in this city and the plan is to stick to the overall guidelines. For example, I have children and I want them to expand and grow, but I sometimes have to tell them no."
Residents voice disagreement with city
Members of the community filled city hall for the public hearing, with those in attendance expressing unanimous support for the expansion.
Ruf Drive resident Jim Nabors said his opinion about the project has changed since he first heard about the expansion plans. Nabors said an abundance of hotels, restaurants and other "commercial highway" businesses to the north and south of the city make attracting similar businesses to the property in question unlikely.
"This little development is not going to change us from a bedroom community to anything else," Nabors said. "I hear a lot about this being 'the gateway to the city,' but from the north, nobody goes left off I-71. I honestly don't know how the Pizza Hut survives."
Ward 1 Councilman Chuck Ricco, in whose ward the 6-acre parcel is located, also expressed support for the project, along with representatives from the Brunswick Area Chamber of Commerce, the Cleveland Auto Dealers Association and Liberty Ford, which was recently permitted to expand its location along the north-bound I-77 Interchange.
"I think this will bring commerce to Brunswick that will help my business and other businesses," said Ken Yacobozzi, general manager Liberty Ford. "I don't know Gary Panteck personally, but I have always admired him. To remain competitive, dealerships now have to expand and grow. Two-thirds of my business comes from the north, and it's the same for Gary from the south. Denying his expansion does not seem right to me, given that my expansion was the exact same thing."
Jacobs Group says city's plans "will never happen"
Hinckley resident and Jacobs Group representative Douglas Crouse said that his company purchased the property in question in 2004, when negations with outdoor equipment retailer Cabela's began. There have been no official negotiations with Cablela's to locate in the city since 2008.
"At that time, we had interest from Cabela's and we auctioned off two pieces but could not acquire Medina Supply," Crouse said.
Though Delsanter pointed out that "the discussions with Medina Supply have changed since then," Crouse maintained that development of the CH-zoned area "is not feasible with the amount of money Medina Supply wants for their property."
"It will never happen," Crouse said. "There is absolutely no other use for this property and the only interest we have had is from a Chik-fil-A to be located next to the (Tru North) gas station and a hotel ? but (the latter) only if Cabela's came in."
Brunswick High School Scoreboard Donation
Brunswick Auto Mart Donates $75,000 for Scoreboard
By MELISSA MARTIN
Brunswick Post editor
The Brunswick City School Board authorized the administration to move forward with the purchase of a new electronic scoreboard for Judy Kirsch Field, now under renovation, on June 20.
Superintendent Michael Mayell said the new scoreboard, which will cost the district approximately $85,000 for the board itself plus installation costs, should be installed and operational prior to the first home game this August.
The district was uncertain earlier this year whether there would be room in the budget for the new scoreboard after $4.5 million in renovations to the stadium, which involve the addition of new home bleachers, locker rooms, concession stands, restrooms and storage facilities, were completed.
The stadium renovations are being conducted in conjunction with the $24 million building renovation project now underway. The renovations, which include the construction of new gymnasiums, media centers and classrooms to seven of the district's 11 schools, are expected to be completed by the time classes resume in August.
The additions are being paid for through revenue generated through the 0.5 percent countywide sales tax designated for capital purchases.
Mayell said the district learned last month that Gary Panteck, the owner of Brunswick Auto Mart, agreed to donate $75,000 to the school district so that it could purchase a video-capable scoreboard to replace the old scoreboard, giving the crowd access to instant replays.
"After his donation, all we will have to pay for is $6,000 of the installation costs," Mayell said, noting that the installation costs are estimated at $25,000. "It is a very generous donation and one that we are extremely thankful for."
In addition to scores, times and statistics, the new scoreboard is expected to have the capability to display replays and commercial advertising. It will be located son the north end of the stadium where the old scoreboard had been located, Mayell said.
As part of the plan to operate the new scoreboard, Mayell said the students who participate in the Brunswick Video Program, which is open to students in grades 6 through 12, will run the scoreboard.
Several students involved with the program attended a special summer session at Kent State University this month to learn how to operate the board. The students who attended the course will then pass their knowledge onto the other students involved with the club, Mayell said.