2017 Auto Show Saving at Brunswick Auto Mart



"We hope you enjoyed the Cleveland Auto Show this year and  to make the buying process easier, Brunswick Auto Mart would like to offer you an ADDITIONAL $500 OFF a new vehicle.  This is on top of already deep auto show discounts this month.  If you're dead set on a particular model and fell in love with your perfect car at the auto show, feel free to fill out the form below to download and print this exclusive Cleveland Auto Show offer.  If you are still unsure what vehicle you want, well than you're in luck!  At Brunswick Auto Mart we have eight auto brands in an auto campus setting that allows you to see, drive, and buy your next new vehicle.  Simply put, there's an auto show at Brunswick Auto Mart every day of the year.  Don't miss out on auto show incentives and this EXCLUSIVE offer from Brunswick Auto Mart.  We look forward to seeing you soon!"
Sorry! Unfortunately, we were unable to process your request at this time. Please try again later or contact us directly at (330) 273-3300.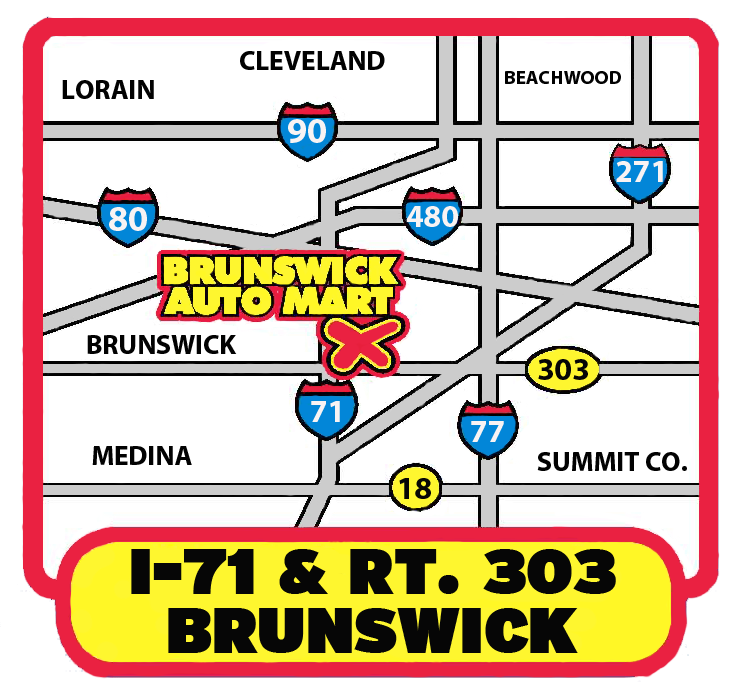 Hours
Monday

9:00am - 9:00pm

Tuesday

9:00am - 9:00pm

Wednesday

9:00am - 9:00pm

Thursday

9:00am - 9:00pm

Friday

9:00am - 6:00pm

Saturday

9:00am - 6:00pm

Sunday

Closed